More info
|
2.5% for deposits, free for withdrawals
Neteller
In the digital age, where online transactions have become an integral part of our lives, having a reliable and secure eWallet is essential. Neteller, a leading global eWallet, has established itself as a trusted platform for managing digital finances. In this review, we will explore the features, benefits, and user experience of Neteller, highlighting why it has become a popular choice among individuals and businesses worldwide.
With the rapid growth of e-commerce, online gaming, and global transactions, Neteller has positioned itself as a comprehensive solution for seamless financial management. Whether you're an avid online shopper, a frequent traveler, or a business owner seeking efficient payment solutions, Neteller offers a wide range of benefits that cater to diverse needs.
Throughout this review, we will delve into the key aspects that make Neteller stand out in the competitive eWallet market. From its robust security measures and global accessibility to its instant money transfer capabilities and prepaid Mastercard, Neteller provides users with a convenient and secure platform for managing their funds.
Moreover, we will explore how Neteller's commitment to user satisfaction extends beyond its features. The Neteller VIP program, for instance, rewards users with exclusive benefits, creating an incentivized and rewarding experience for loyal customers.
Join us as we uncover the advantages of using Neteller and discover how this eWallet can streamline your financial transactions, enhance your online experience, and provide you with peace of mind when it comes to managing your digital finances. Whether you're new to eWallets or seeking an upgrade from your current provider, Neteller has a lot to offer. Let's dive into the world of Neteller and explore its many benefits.
Benefits of Using Neteller: An Essential eWallet for Seamless Financial Transactions
Neteller is a leading global eWallet that offers a secure and convenient platform for online financial transactions. With a wide range of features and services, Neteller has gained popularity among individuals and businesses alike.
In this section, we will explore the key benefits of using Neteller and how it can enhance your digital payment experience.
Secure and Trusted: Neteller prioritizes the security of its users' funds and personal information. By utilizing advanced encryption technology, two-factor authentication, and robust fraud prevention measures, Neteller ensures that your transactions are protected from unauthorized access. Furthermore, as a regulated financial institution, Neteller adheres to strict compliance standards, providing you with peace of mind when managing your finances online.
Global Accessibility: Neteller empowers users with the ability to send and receive funds globally. Regardless of your location, you can conveniently access your Neteller account and perform transactions in multiple currencies. This accessibility is particularly beneficial for international travelers, freelancers, and e-commerce businesses operating in diverse markets. With Neteller, you can effortlessly manage your funds, regardless of geographical boundaries.
Wide Acceptance: Neteller enjoys widespread acceptance across a broad spectrum of online platforms, including e-commerce websites, gaming and gambling platforms, forex and cryptocurrency exchanges, and more. This broad acceptance ensures that you can easily use your Neteller account for various online transactions, eliminating the need to share your sensitive financial information with multiple websites or service providers.
Instant Money Transfers: One of the standout features of Neteller is its ability to facilitate instant money transfers. Whether you need to send funds to a friend or family member or make urgent payments for goods and services, Neteller allows you to transfer money quickly and efficiently. This real-time capability makes Neteller an ideal choice for time-sensitive transactions, giving you greater control over your finances.
Prepaid Mastercard®: Neteller offers a prepaid Mastercard, which provides users with a physical card linked to their eWallet account. With this card, you can make purchases online and in-store at millions of locations worldwide, where Mastercard is accepted. The prepaid card also allows you to withdraw cash from ATMs, providing you with seamless access to your funds wherever you are.
Loyalty Program: Neteller rewards its users through its loyalty program, called the Neteller VIP program. By using Neteller frequently for your transactions, you can accumulate loyalty points that unlock various benefits, including lower fees, higher transaction limits, dedicated customer support, and exclusive promotions. This program is designed to enhance your overall Neteller experience and provide additional value for your loyalty.
Neteller Fees: Transparent and Competitive Pricing for Financial Convenience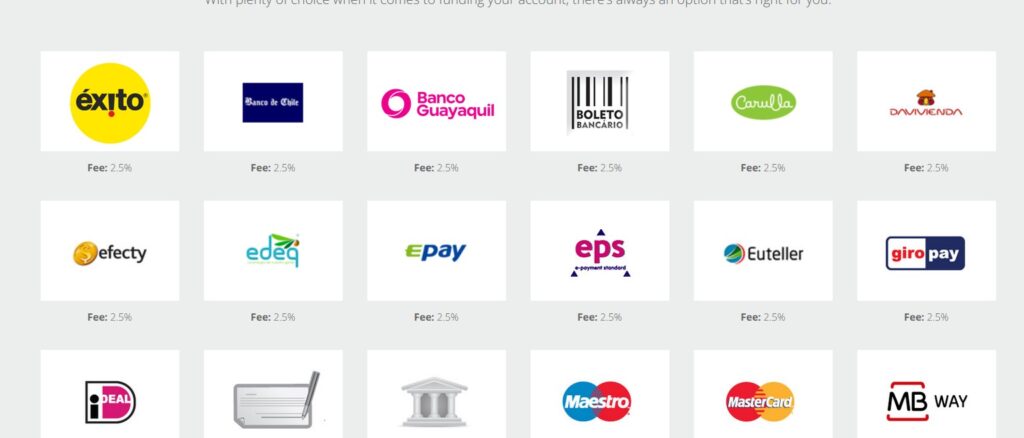 Account Creation and Maintenance: Signing up for a Neteller account is free of charge. Users can create an account without incurring any upfront fees or subscription costs. Additionally, Neteller does not impose any maintenance fees, providing users with a cost-effective solution for managing their funds.
Deposit Fees: Depositing funds into your Neteller account may be subject to certain fees, depending on the deposit method chosen. Neteller supports a wide range of deposit options, including bank transfers, credit/debit cards, and alternative payment methods. While some deposit methods may carry nominal fees, others may offer fee-free transactions. It is advisable to review the specific fees associated with your chosen deposit method on the Neteller website or within your account dashboard.
Withdrawal Fees: Similar to deposits, withdrawing funds from your Neteller account may incur fees based on the chosen withdrawal method. Neteller offers multiple withdrawal options, such as bank transfers and prepaid Mastercard withdrawals. It is important to review the associated fees for each withdrawal method to make an informed decision based on your needs.
Currency Conversion Fees: Neteller enables users to transact in various currencies, which is particularly advantageous for international transactions. However, if you need to convert funds from one currency to another, Neteller applies a foreign exchange fee. The currency conversion fee is a small percentage added to the market exchange rate and is disclosed at the time of the transaction. While these fees are competitive compared to traditional banks or currency exchange services, it is recommended to review the applicable fees before initiating currency conversions.
Peer-to-Peer Transfer Fees: Neteller allows users to send and receive funds to and from other Neteller account holders. This peer-to-peer transfer service is typically free of charge, making it an efficient way to transfer funds between Neteller users without incurring additional fees.
Neteller VIP Program: Neteller offers a VIP program that rewards users based on their transaction volume and usage. VIP program members can enjoy various benefits, including lower fees, higher transaction limits, dedicated customer support, and additional perks. As users progress through the VIP levels, they can access reduced fees and enhanced services, providing added value for their loyalty.
| Service | Fee Approximations |
| --- | --- |
| Account Creation | Free |
| Account Maintenance | Free |
| Deposit Fees | |
| – Bank transfers | Varies by bank and location |
| – Credit/debit cards | Around 1.45% to 4.95% per transaction |
| – Alternative payment methods | Varies depending on method |
| Withdrawal Fees | |
| – Bank transfers | Around $10 to $12.75 per transaction |
| – Prepaid Mastercard withdrawals | Around $6 per transaction |
| Currency Conversion Fees | Approximately 3.99% to 4.49% for currency exchanges |
| Peer-to-Peer Transfer Fees | Typically free for transfers between Neteller accounts |
| Neteller VIP Program | Benefits and fee reductions based on transaction volume and VIP level |
Neteller User Experience: Seamlessly Manage Your Finances with Intuitive Design
Intuitive Account Setup:
Getting started with Neteller is a breeze. The account creation process is straightforward, allowing users to quickly sign up and set up their accounts. The interface guides users through the necessary steps, making it easy to provide the required information and verify their identity. This seamless onboarding experience ensures that users can start utilizing Neteller's services without unnecessary delays.
User-Friendly Dashboard:
Upon logging in, users are greeted with a clean and intuitive dashboard. The dashboard provides a comprehensive overview of account balances, recent transactions, and essential account management options. Navigating through the various sections, such as transaction history, deposit, withdrawal, and account settings, is simple and straightforward, allowing users to access the desired features and information with ease.
Mobile-Friendly Design:
Neteller understands the importance of accessibility in today's mobile-centric world. The Neteller platform is optimized for mobile devices, ensuring a responsive and user-friendly experience on smartphones and tablets. The mobile app, available for both iOS and Android devices, offers a streamlined interface that allows users to manage their finances on the go, making transactions and monitoring account activity effortless.
Multilingual Support:
Recognizing its global user base, Neteller supports multiple languages, enhancing the user experience for individuals from diverse linguistic backgrounds. The platform is available in various languages, making it more accessible and user-friendly for users worldwide. By providing a localized experience, Neteller ensures that users can navigate the platform comfortably and understand the information presented in their preferred language.
Customer Support:
Neteller places great importance on customer support, aiming to provide prompt assistance and guidance to its users. The platform offers various support channels, including a comprehensive FAQ section, email support, and live chat options. The dedicated customer support team is available to address queries, resolve issues, and provide guidance regarding account-related matters. This responsive customer support further enhances the overall user experience, ensuring that users feel supported and attended to whenever assistance is required.
Constant Platform Improvements:
Neteller is committed to continuous improvement and innovation, regularly updating its platform to enhance functionality and address user needs. By listening to user feedback and analyzing market trends, Neteller strives to provide an optimized user experience. These updates may include the introduction of new features, improvements to existing ones, and security enhancements, all aimed at delivering a seamless and user-friendly platform.
Neteller Security: Safeguarding Your Financial Transactions with Advanced Protection Measures
Ensuring the security of your financial transactions is a top priority for Neteller. They employ a range of advanced protection measures to safeguard user accounts and data. Here are the key aspects of Neteller's security framework:
Cutting-Edge Encryption Technology: Neteller utilizes industry-standard encryption technology to protect sensitive user data. This technology ensures that your personal information, including login credentials and financial details, is securely transmitted and stored. By encrypting data, Neteller safeguards it from unauthorized access, providing a strong layer of protection against potential threats.
Robust Two-Factor Authentication (2FA): Neteller offers two-factor authentication (2FA) as an additional security measure. By enabling 2FA, users can link their Neteller accounts to a secondary authentication method, such as a mobile app or SMS verification. This extra layer of security ensures that only authorized individuals can access the account, even if login credentials are compromised. Implementing 2FA significantly reduces the risk of unauthorized access to your Neteller account.
Stringent Account Verification: Neteller follows strict procedures for account verification. During the registration process, users are required to provide necessary identification and undergo a thorough verification process. This verification helps prevent fraudulent activities and ensures that only legitimate users can access the full range of services offered by Neteller. By implementing a stringent verification process, Neteller maintains a high level of security and user trust.
Proactive Anti-Fraud Measures: Neteller employs proactive measures to detect and prevent fraud. Their advanced systems and algorithms monitor transactions and account activities in real-time, identifying suspicious patterns or behavior. If any potential fraudulent activity is detected, Neteller takes immediate action to protect user accounts and funds. These anti-fraud measures help create a secure environment for users to conduct their financial transactions.
Dedicated Security Team: Neteller has a dedicated security team that works tirelessly to maintain the integrity of the platform. The team continually monitors and analyzes potential security threats, staying ahead of evolving risks in the digital landscape. They implement the latest security practices, conduct regular security audits, and update their systems to ensure the highest level of protection for users' financial information.
Our Recommendations: Why Neteller is an Excellent Choice for Your eWallet Needs
Our Recommendations for Neteller
Wide Range of Payment Options
Global Accessibility
Competitive Fee Structure
Strong Security Measures
User-Friendly Interface
Explanation of Recommendations:
Wide Range of Payment Options: Neteller supports various payment methods, including bank transfers, credit/debit cards, and alternative payment options, providing users with flexibility and convenience.
Global Accessibility: Neteller operates on a global scale, offering support for multiple currencies and localized language options, making it accessible to users worldwide.
Competitive Fee Structure: Neteller maintains a transparent fee structure, providing clear information on costs associated with different services, ensuring competitive pricing within the eWallet market.
Strong Security Measures: Neteller prioritizes user security with advanced encryption technology, two-factor authentication, stringent account verification processes, proactive anti-fraud measures, and a dedicated security team to safeguard user accounts and financial transactions.
User-Friendly Interface: Neteller offers an intuitive and user-friendly platform, both on the web and through its mobile app, ensuring a seamless experience for users when managing their finances.
FAQ
How long does it take to create a Neteller account?
Creating a Neteller account is a quick and straightforward process. Simply visit the Neteller website and click on the "Sign Up" button. You'll be guided through the necessary steps, which include providing your personal information and verifying your identity. Typically, the account creation process can be completed within a few minutes.
Are there any limits on transactions and withdrawals with Neteller?
Neteller imposes certain limits on transactions and withdrawals to ensure security and compliance with regulatory requirements. The specific limits may vary based on factors such as your account status, verification level, and jurisdiction. To view your account's transaction and withdrawal limits, you can log in to your Neteller account and refer to the appropriate section. It's worth noting that Neteller provides options for upgrading your account and increasing your limits based on your needs.
Can I use Neteller for online gambling and gaming transactions?
Yes, Neteller is widely accepted as a payment method for online gambling and gaming transactions. It is a popular choice among users who engage in online betting, casino gaming, poker, and other gambling activities. Neteller provides a secure and convenient way to deposit and withdraw funds from various online gambling platforms. However, it's essential to check the specific terms and conditions of the gambling or gaming website you plan to use to ensure they accept Neteller as a payment method.
What are the available options for depositing funds into my Neteller account?
Neteller offers various options for depositing funds into your account. Some common methods include bank transfers, credit/debit card payments, and alternative payment options such as Skrill, Paysafecard, and Bitcoin. The availability of these deposit options may vary depending on your location and account status. To deposit funds, log in to your Neteller account, navigate to the "Deposit" section, and choose the preferred deposit method. Follow the instructions provided to complete the deposit process.